Women's Only Fitness
Lose Fat, Build Muscle, and Feel Fantablulous!
If you're looking to BURN FAT, BUILD MUSCLE, and FEEL GOOD then Training for Warriors is the right pick for you. Our dedicated and highly skilled coaching staff will meet all of your expectations with a warm smile and a dose of motivation!
Check Out the Web Special Below or Call Us Now at…
804-291-8812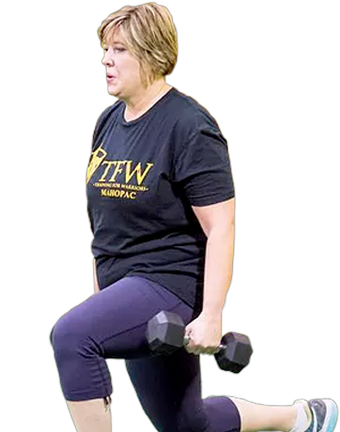 THE MOST EFFECTIVE WORKOUT IN THE AREA.
Our secret formula of 1 TFW strength, 1 TFW metabolic and mix in 1 or 2 kickboxing classes, your body will experience the fully body workouts like you never have before.
Our workouts are designed to:
Get anyone at any fitness level have great workouts
Increase an Accountability
Increase Energy that lasts throughout the day
Provide extensive support via in-person coaching as well as our Private FB page
Feel Stronger
Lose Inches
Get Personalized Attention from our Coaches
See RESULTS you have been waiting for
The daily workouts of the TFW system are designed to develop the muscular strength and mental fortitude for you to take on challenges.
What separates the TFW system from other training programs is its holistic approach to training. Although TFW encompasses detailed warm-ups, speed training, strength training, endurance training, flexibility work and nutrition all of which are based on a comprehensive evaluation process, perhaps the most important component of the system is its motivational approach. TFW is not designed as a sport or competition, but focuses on you competing against yourself.